Benefit of "Dataweigh Omega" TM Frontier
■Maximize Production output
*Increase productivity through high-speed multipoint discharge
*Minimize production waste through wider product window
*Small footprint
■Increase packaging versatility
*VFFS(duplex, triplex, 4-tube, 6-tube)versatility
*Applicable to multi-point horizontal packaging machines and multi-lane tray lines
■Contribute to environmental protection
*Reduce packaging waste and weight
*Lower total cost of ownership
Providing various discharge patterns

Expanding packaging versatility

Independent discharge channel
Changing from a standard single chute structure to a dual chute structure provides wider product discharge windows in high-speed operation.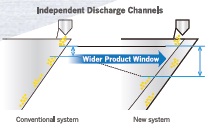 Bottom based handling device(BBHD
)
The bottom based handling system temporally retains the product that has dropped to the discharge chutes and on release ensures that no product is within the seal zone of the bag-maker.This reduces product waste and allows the use of thinner packaging film with ensuring sufficiently sealing time.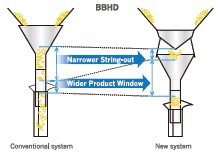 Simultaneous combination
High accuracy and output are realized.
Less loss means a fast return-on-investment.
Multi-point Discharge
Yamato Multihead weighers with 1 to 6 discharge gates can fill tray lines, cup lines, HFFS,VFFS, rotary packing machines and other similar packaging applications.Multipoint discharge allows increased production.
Divided weigher
Divided weigher is comprised of completely independent discharge channels divided from one weigher, allowing weighing with higher speed and accuracy. Wider product windows with BBHD maximize multihead weigher performance in high-speed small bag lines.