Products information

Products
Checkweigher J series
Standard model which succeeded Yamato's industrial leading technology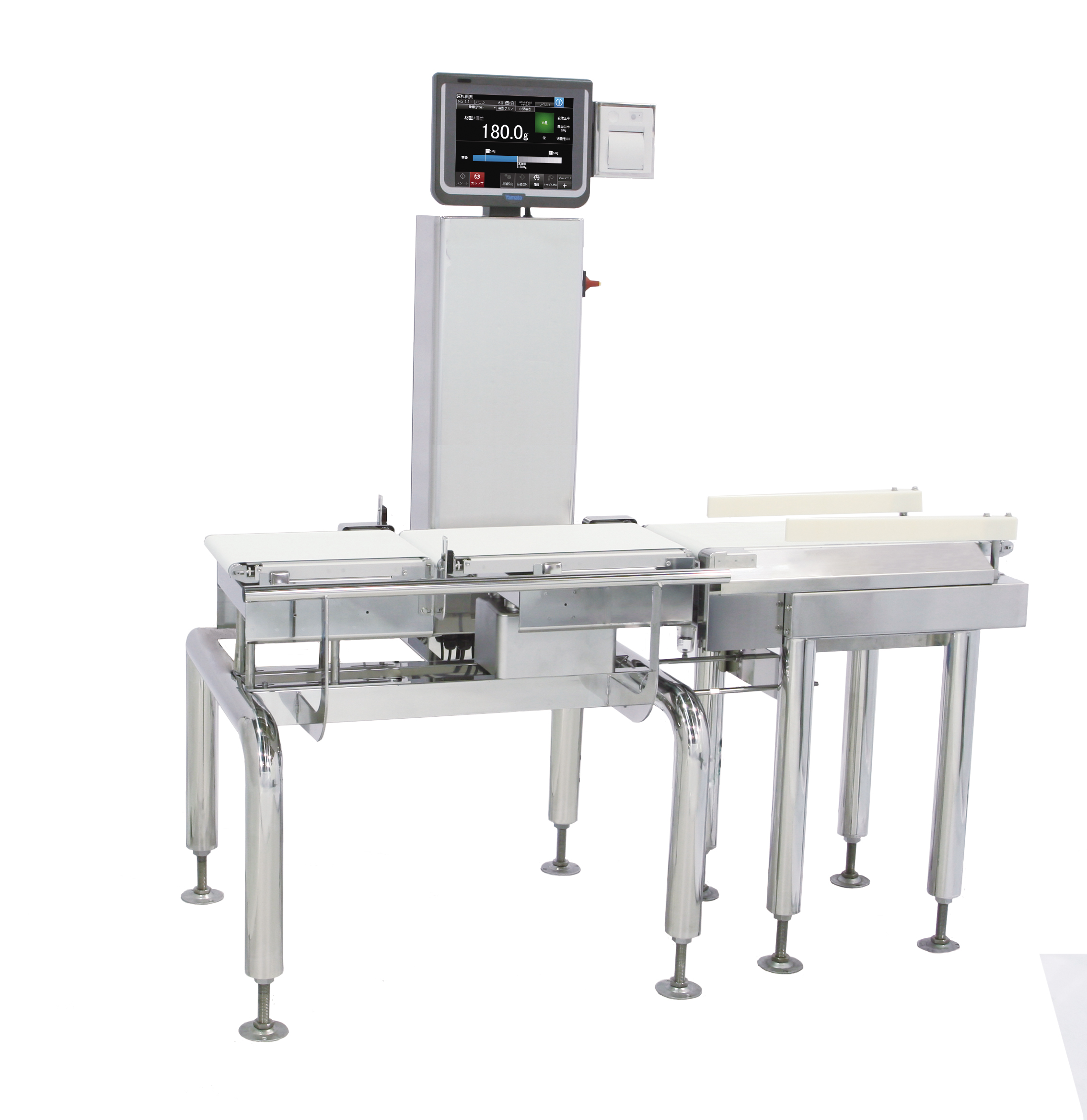 ・Industry leading performance level
・Easy operation
・Easy cleaning and maintenance
・Outstanding food safety
・Reliability and safety
・Envionmental responsiveness
・Overall versatility
Checkweigher J series which succeeded industrial leading technology of high performance and high function keep the reliability and safety of your production line. In addition, improved productivity, easy operation and versatility contribute to wide range of industry.
■Industry –Leading Performance level
Industry highest productivity of speed 480ppm and accuracy +/-0.07g
New load cell
New type high rigid load cell shorten the settle time thus resulting in high speed and high accuracy weighing.< /li>
Wide variety of conveyor sizes
By choosing the conveyor size which fit the product being weighed, it maximizes speed and accuracy.
Dual load cell
In the operation environment in which there are more vibration, the dual load cell remove low frequency vibration and contribute to high accuracy weighing.
■Easy operation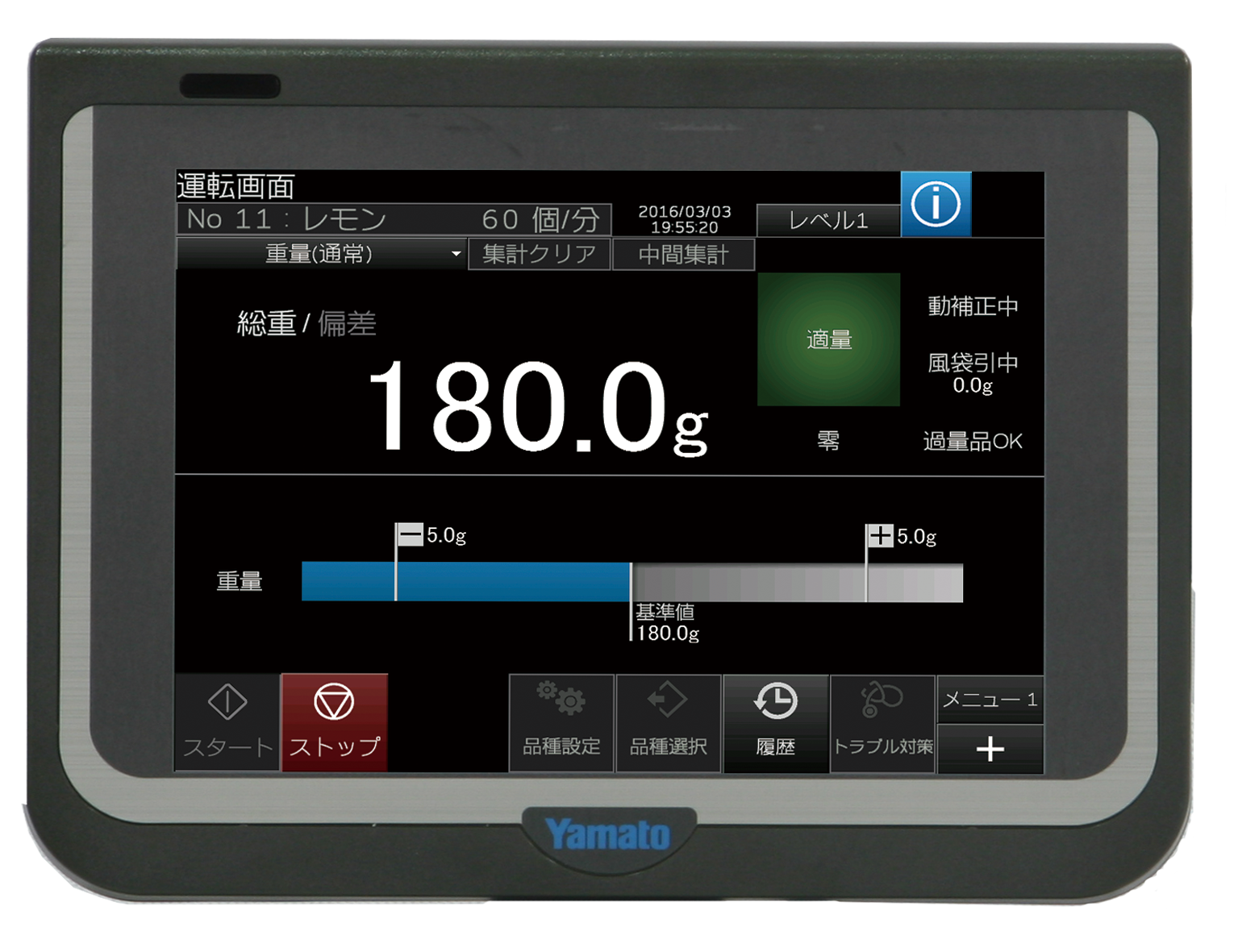 10.4 inch color touch screen offers higher visibility and better usability
Easy initial setting
Yamato's original "Automatic program setting system" allows initial settings to be performed without any complicated parameters.
Easy control of screen
Succeeding conventional model's screen format, visibility and usability have been improved. In addition, communication method of operation contributes to easy operation.
Improved visibility
Industry top level resolution screen is adopted. Even small letter can be seen easily.  
Improvement of work efficiency
Indicator angle can be adjusted. ( Right-Left 160°Up-Down 30°)

Adjustable angle of controller does not limit operator's working place and improve the work efficiency.
In addition, as an option, controller can be separated from the main body and put anywhere you want.
■Easy cleaning & maintenance
Error location indication /anti-error monitor and alert function
 
Monitoring errors such as weigh error, photo sensor error, motor error and so on and alert them. Showing the point of the error and how to recover it to minimize the downtime.
Parts replacement alert function

The indicator shows the time for replacing consumable parts and prevents the breakdown and trouble thus minimizing downtime.
Prevent load cell breakdown
Load cell withstand up to 1000% weight of its max capacity and prevent the load cell breakdown which sometimes occurs during maintenance and cleaning.
Shorten maintenance time

By unitizing the parts, the maintenance and repair time are shortened. 
Improve maintenance work efficiency

Conveyor and pulley can be removed and reattached very simply without using any tools.
■Outstanding food safety
The Checkweigher J series is HACCP and GMP compliant and provides high level of hygienic safety for wide range of production lines.
Tubular pipe which minimize dust accumulation

Tubular pipe is adopted for the frame which minimizes dust accumulation. In addition, all-SUS design (buffing) and open-frame structure provide ease of cleaning and a high level of food safety.
Compliant with food hygiene law
Conveyor belt is compliant with food hygiene law.
■Reliability & safety
Reject verification function (option)
By installing sensors at rejecter, it can confirm whether defective products are being properly rejected and prevent those products from being passed on to the next conveyor.
Check item alert function
The indicator shows item which need to be checked before starting the daily operation.
■Environmental responsiveness
J series Checkweigher reduces power consumption
The backlight is automatically turned off when the unit is not in operation for a specified period of time.
The conveyor can also be stopped automatically when the unit is not operated for a period of time in order to save energy.
Minimizes the environmental impact by reducing the number of components by 10%.(Compared to conventional models)
Compliant with RoHS
■Overall versatility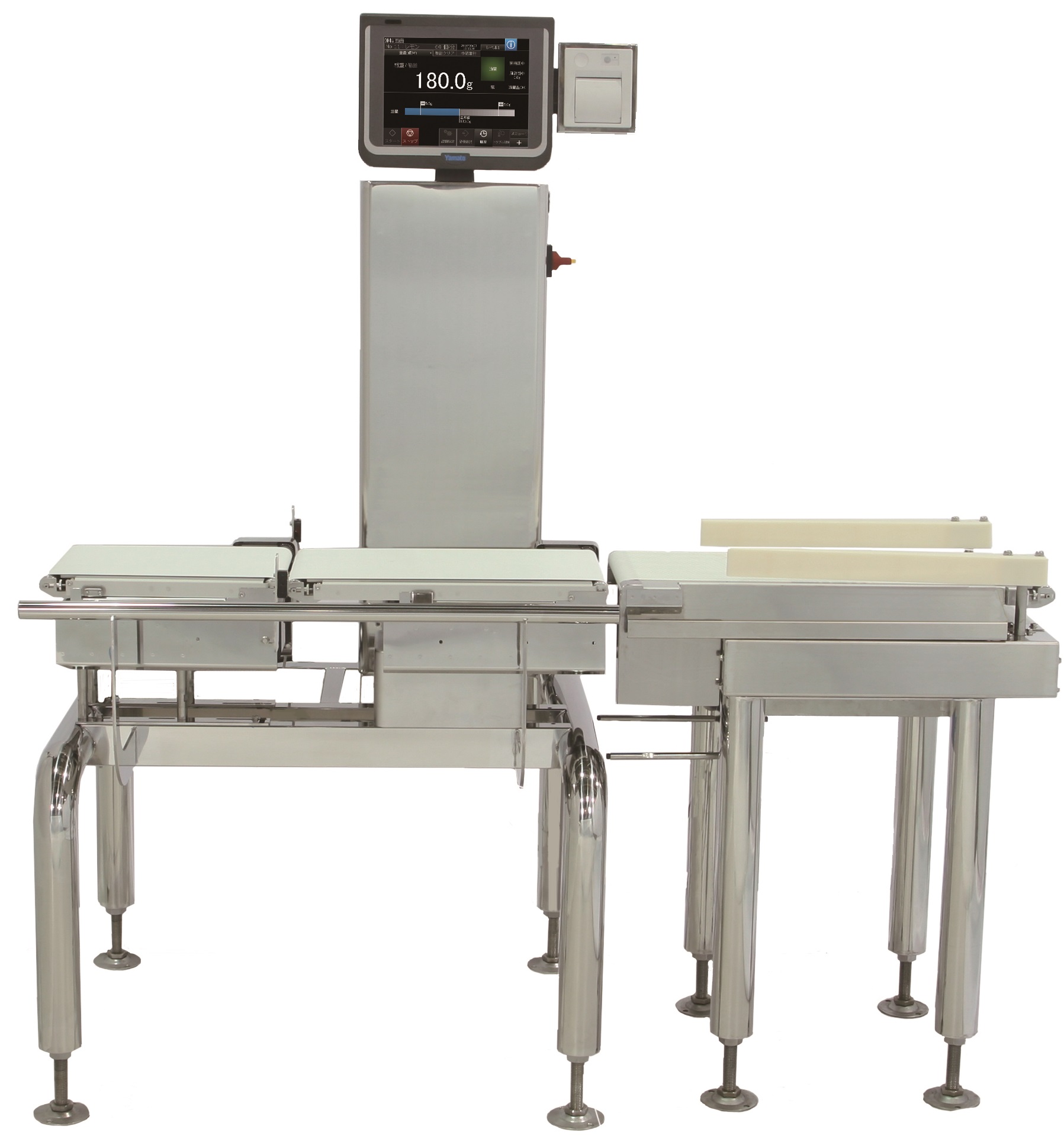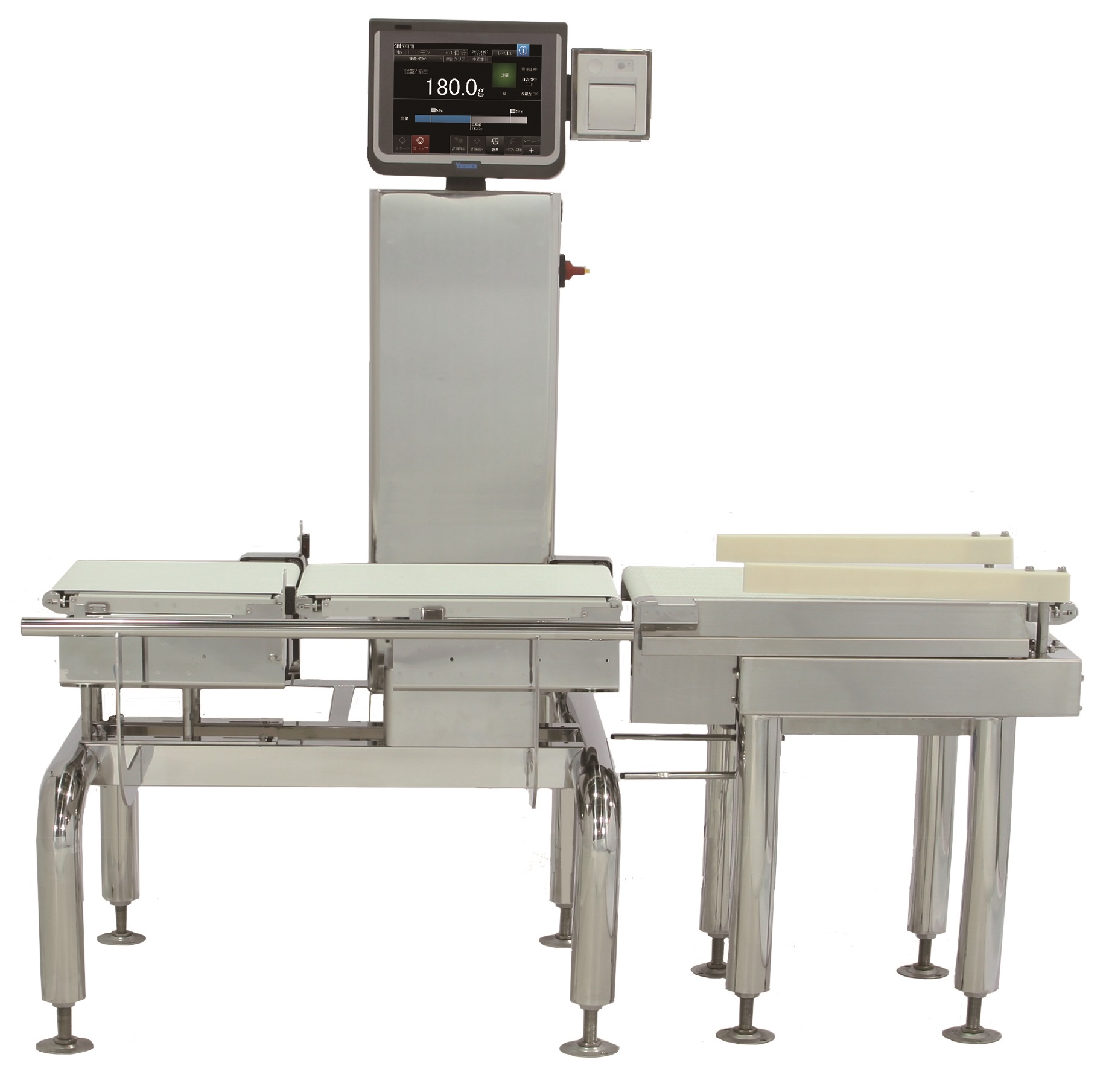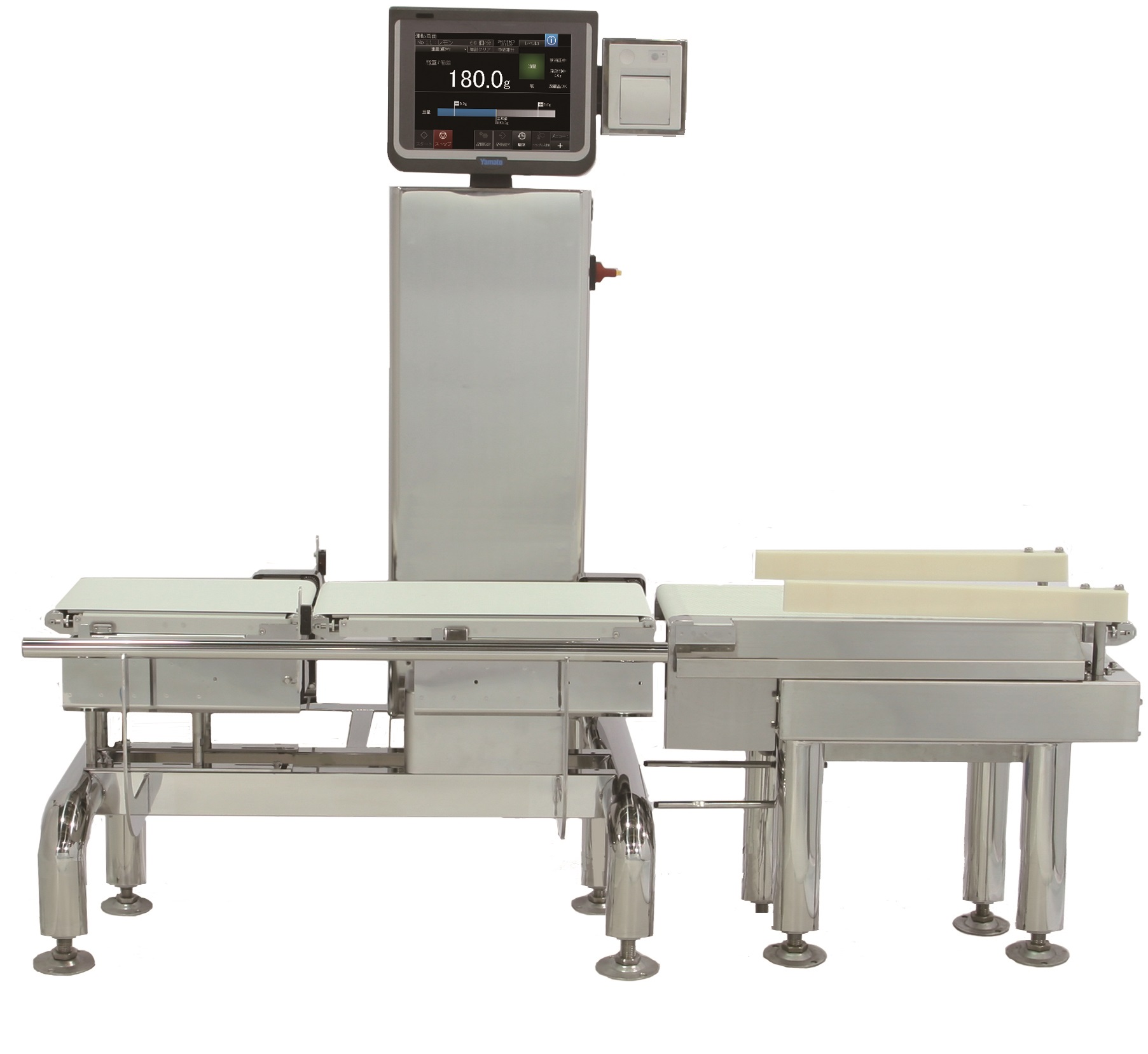 Fit various height and length of your production lines by wide variety of leg length and conveyor sizes.
■Options
*Pass line height variations                       
*Reject verification function                       
*Signal light                                             
*Tri-color light                                         
*Printer                                                    
*Dual load cell                                           
*BCD product input                                    
*Automatic conveyor stop function
*Data acquisition software
*Wind cover (main body& rejecter)
etc.
※Please contact us if you have other requirements for option.
■Checkweigher and metal detector combination systems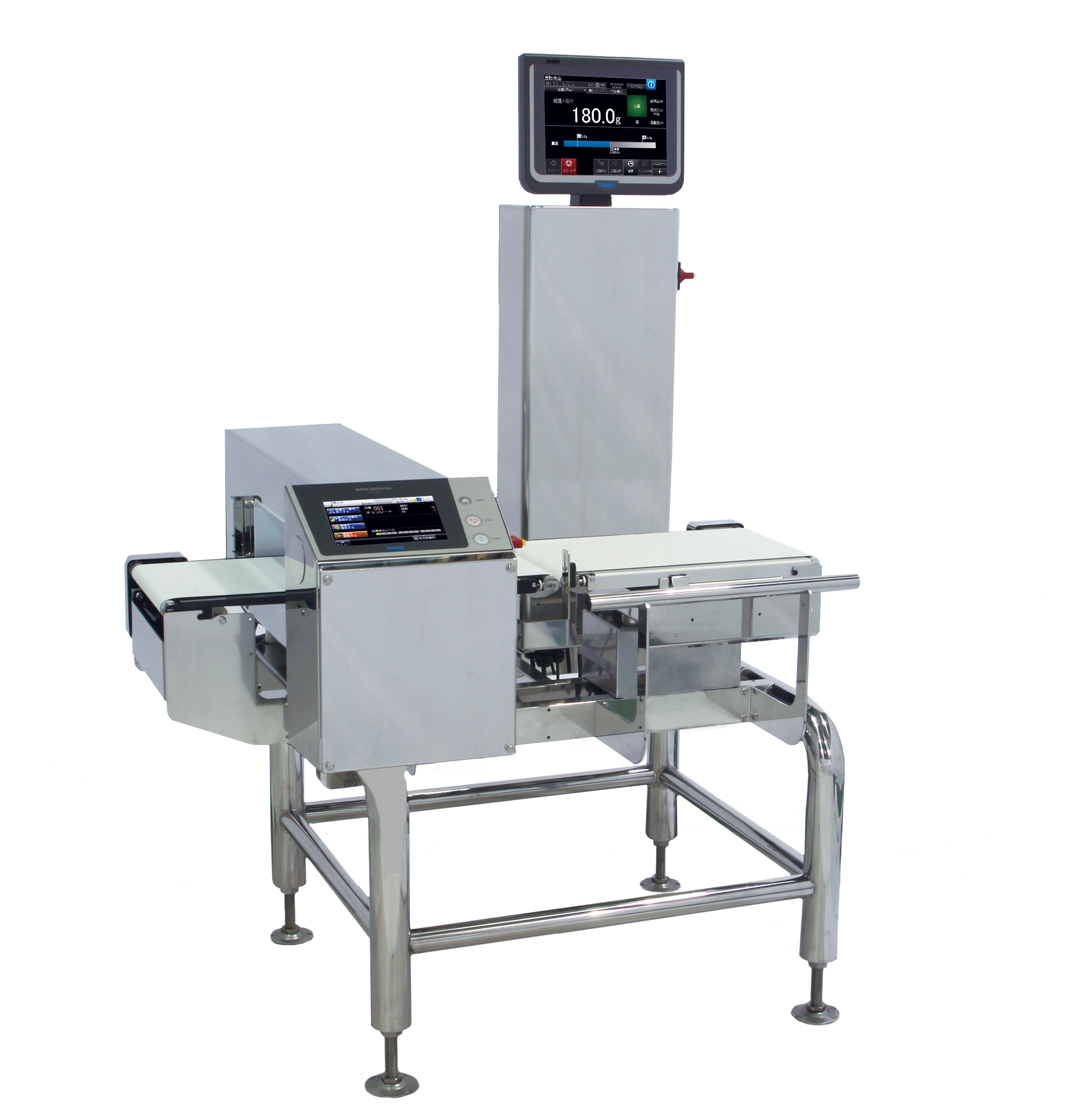 Enable one-process of metal detection and checkweighing and can save space.
 
*High sensitivity
Adopting the admeasurement style of simultaneous 2 frequencies from 4 types allows higher sensitivity measurement to detect metallic contaminants.
Original digital signal processing allows stable detecting sensitivity.
*Reliable detecting sensitivity
Improved self-diagnosis function by installing the motion monitoring sensor on the metal detector head. There is a fail-safe motion when error occurs.
Automatically avoid malfunction by temperature change during the operation by automatic temperature compensation function
*Ease of operation
Advanced high-definition color touch screen provides ease of operation and visibility. In addition, new auto-setting algorism enables easy setup.
Maintenance support guide indicates the resource of the trouble and how to solve the issue thus reduces downtime.
Ultra Small Type

CUJ60F/CSJ06F

Small Type

CSJ06L(M)

Small Type

CSJ22L(M)

Small Type

CSJ33L(M)

Small Type

CSJ33L(M)

Medium

CMJ06LM

Medium

CMJ12L

Medium

CMJ30L

Large

CLJ30L

Large

CLJ60L

Weight range(g)

0.6~600

6~600

20~2,200

30~3,300

30~3,300

60~6,000

60g~12kg

0.3~30kg

0.3~30kg

0.6~60kg

Minimum graduation

0.005g

0.05g

0.1g

0.1g

0.2g

0.5g

0.5g

2g

5g

5g

Accuracy

(Max.)

±0.015g

±0.07g

±0.2g

±0.2g

±0.3g

±1.0g

±1.0g

±2g

±5g

±5g

Weigh system

EMFR

Load Cell

Load Cell

Load Cell

Load Cell

Load Cell

Load Cell

Load Cell

Load Cell

Load Cell

Max speed

(ppm)

450

480

480

310

190

150

150

50

70

35

Weigh conveyor length(mm) 

240/330

240/330

/440

240/330

/440

240/330

/440

400/500

/600

400/500

/600

400/500

/600

600/880

880

1,100

Weigh conveyor width (mm) 

100/160

160/240

160/240

240

320

320/400

320/400

400

400

600

IP protection Class

Non-Waterproof

Non-Waterproof

Non-Waterproof

Non-Waterproof

Non-Waterproof

Non-Waterproof

Non-Waterproof

Non-Waterproof

Non-Waterproof

Non-Waterproof

Power Supply

AC100-240V +/-10%, 50/60Hz, Single Phase

AC200V-240V +/-10%, 50/60Hz, Three Phase

Air Supply

0.4-0.7Mpa

Program Number

300