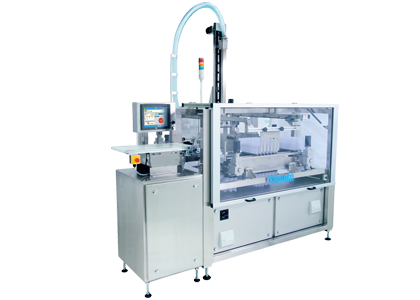 Case Packer
Food industry
Ideal for low-volume, various product line
Flexible Case Packer/FCP series
In our effort to provide a complete packaging line instead of selling just scales and test devices independently, Yamato sold many Flexible Case Packer (FCP) series, an automatic packager compatible with various product lines, to domestic and international customers since 2000.
Weighed and packed products go though different testing procedures before being boxed and then shipped. As there is an ever increasing demand for reduced production cost at the factories while the labor population continues to shrink, the industry is seeing a surging demand for automatic case packers as a manpower saving measure. In response to the sprawling consumers' tastes and lifestyle changes, product packaging and distribution systems have kept on being diversified. Along production lines, product types have been similarly diversified, prompting the demand for a case packer compatible with many different product types.
01

Improved line utilization through high stability

The product achieves a high stability through the incorporation of high performance AC servo and motion control technology.It significantly improves the line utilization by minimizing stoppage due to mechanical errors.
02

Improved productivity through high performance

By incorporating an assembly conveyor powered by double servo,the equipment achieves a high-speed processing of up to 120 packages per minute.Improved packaging line enables improved productivity.
03

Extensive compatibility through high versatility

In addition to its ability to flexibly adjust to a variety of product sizes and packing patterns,vertical packing,horizontal packing,sashimi packing,four-square packing,and many other packing arrangements are available,making it an ideal component for a multiproduct line.The layer replacement at the time of switching product types takes only up to 15 minutes witout requiring any tools.

■Various packing patterns

■Bucket for product uptake that putting on and taking off is easily
04

User-friendly and easy operation

The operation display features a large LCD touch screen,navigating the operator with ease through clear indications.In case of error,recovery steps indicated in the screen are easy and smooth to follow.

■Indication operation screen

Is equipped with a large LCD color touch screen of 12.1 inches to display the operating unit
05

Efficient packaging operation enabled by compact design

Adding to the compact design,free combinations of packaging products and case-inserting directions enable an efficient production line layout in a limited space while ensuring operability.
Users who introduced the equipment highly evaluate FCP.We commit ourselves to the facilitation of customer's businesses further by expanding the sale of Flexible Case Packer(FCP)series.
Voice of customer
Because there were few error stops,a high rate of operation was realized.
We employ a flexible case packer with pleasure every day.Person in charge of
Line facilities
Person in charge of
Production section

After having let 2 lines(Length and breadth pillow packing line)join 1 line,We succeeded in the slash of personnel expenses by handling it with one flexible case packer.
Introduced model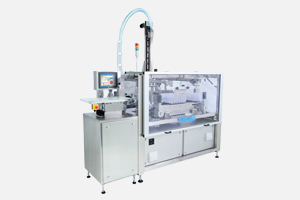 Flexible Case Packer/FCP series
A flexible case packer that supports a wide variety of packing patterns with high stability has evolved further